Life Insurance Options for the Elderly
If you're elderly and looking to purchase life insurance, you have options. While fully underwritten policies may be too expensive for older applicants, consider looking into simplified-issue policies or guaranteed-issue policies.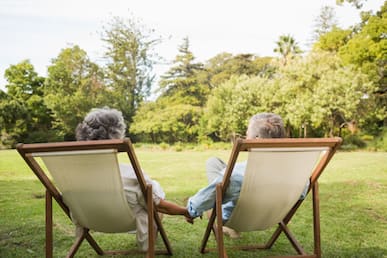 After a certain age, you may not need a huge death benefit. Odds are, your kids have grown up and not dependent on your income. You may have paid off your mortgage and other obligations. And you may be retired and don't need to worry about supporting your business.
A small death benefit payout can likely help your children, grandchildren or other dependents in the following ways:
Minimize estate taxes
Help cover your funeral expenses
Pay off some of your medical bills or other outstanding debt
Leave behind a small inheritance
Simplified-Issue Life Insurance
If you're in good health but don't want to deal with taking a medical exam when you apply for a life insurance policy, a simplified-issue plan may be a good alternative. These types of policies forgo the traditional medical exam and instead only require a few health history questions. Issuance of the policy may depend upon answers to health questions set forth in the application. These plans may have a graded death benefit for an initial period of time.
If you want a faster approval process, consider shopping for simplified-issue policies in your area. Keep in mind that these policies don't offer death benefits as generous as those offered by fully underwritten policies. 
Guaranteed-Issue Life Insurance
Guaranteed-issue life insurance can be helpful if you just need enough coverage to pay off debt that has accumulated later in life and to ensure your burial and funeral expenses are covered. These are typically permanent policies with a small death benefit (typically $5,000 to $25,000, sometimes less) designed specifically to cover final expenses. These policies tend to be more expensive than simplified-issue policies, but there are no health questions and no medical exam required when you purchase guaranteed-issue plans.
These plans may have a graded death benefit for an initial period of time.
Final expense insurance is typically a good option for those who aren't in good health and only need coverage for end-of-life expenses. You also can only buy these policies if you fall within a certain age range (50-85, for example).
Learn More
To learn more about your life insurance options, speak with a licensed agent at 1-855-303-4640 or read through our guides below.
*Applications for insurance may be subject to acceptance by insurer. Rates and coverage amounts will depend upon the carrier selected.