The Link Between Health & Income: A New Study

The correlation between health, debt, and income has been widely studied, and researchers have found that they have strong ties to one another. Have you ever contemplated the relationship between money and well-being in America? Have you ever questioned why counties with populations in poor physical condition have an overall lower income? Is there a geographic link between smoking and wages? How do stress and housing problems tie in with income?
To find out, we gathered data from County Health Rankings statistics and overlaid all of this information on maps of the U.S. We also surveyed over 1,000 Americans on how their debt affected their health. These visual representations paint a telling picture of the relationship between income and health across the country. Keep reading to get the details.
Is There Health in Wealth?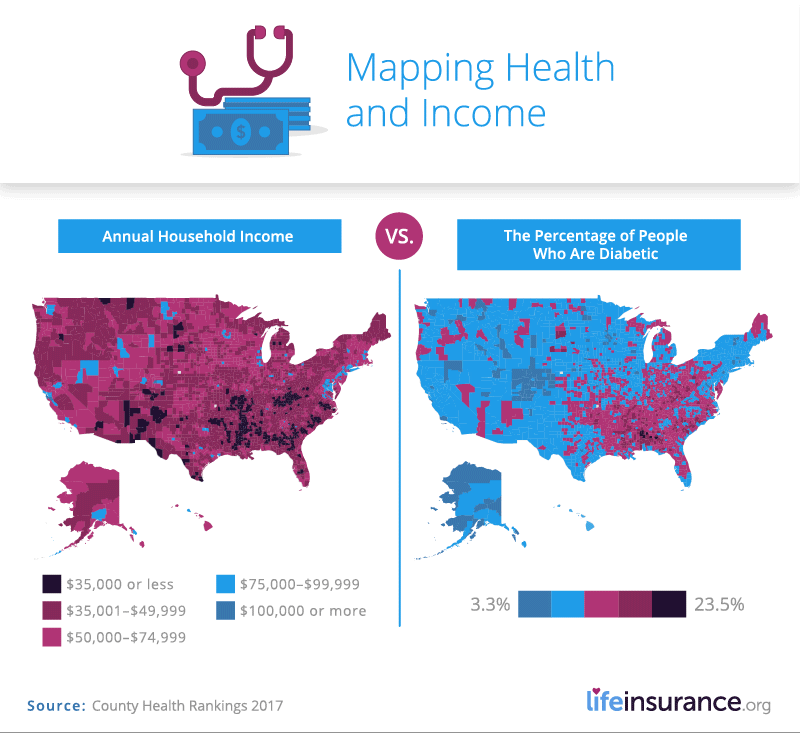 This interactive presents annual household incomes, the percentage of people with diabetes, average health care costs, obesity, physical inactivity, and smoking. A high concentration of cases exist in counties and areas where there is an overlap with lower incomes. When comparing the map of people who are not physically active with those who smoke or are obese, lower-income areas had a higher percentage for each circumstance or habit.
The disparity in smokers may be related to the way people smoke. Compared to those with higher incomes, "lower-income smokers take longer and deeper drags on each cigarette." By inhaling more and for longer amounts of time, they absorb greater levels of nicotine and strengthen their addiction. This, in turn, can make it much more difficult to quit and increases the likelihood of perpetuating the habit.
The top recommendations for preventing and treating obesity are to eat a healthy diet and get physical exercise. But these management skills may be harder for some – mainly for those with lower incomes. Families with a budget may have to limit their food supply and make more affordable food choices. These families may be more likely to choose high-fat foods because of low cost and limited access to healthier options. This, in conjunction with restricted physical activity due to affordability, work schedules, or a lack of nearby safe areas to exercise, can result in an increase in obesity for those areas with high poverty rates.
More Money, Fewer Problems?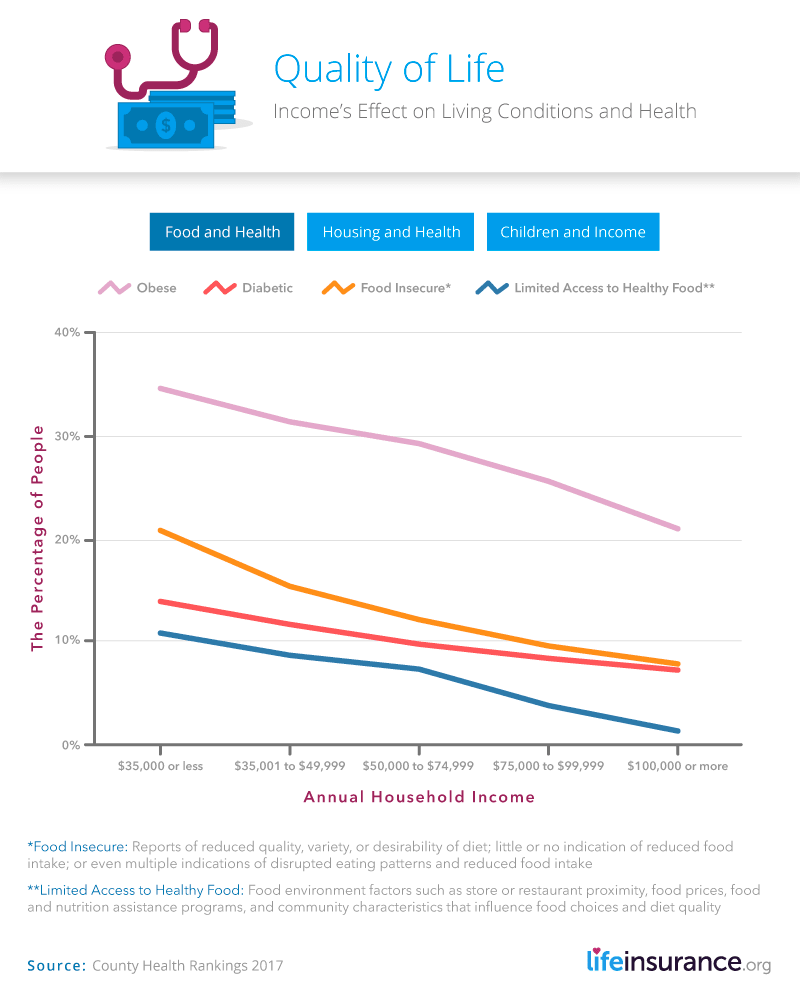 Our study suggests people who make less money may end up with more to worry about, whether issues stem from physical health, birth complications, or even limited access to healthy foods. Every category shows an overall downward trend as income increases, and every line indicates people who make $35,000 or less each year may be more likely to encounter health and nutrition issues than people with higher annual incomes.
While there are various causes for health issues in America, experts say income is one of the strongest factors, with poorer Americans being sicker than their wealthier counterparts. They attribute this to substandard care and the housing and environments lower-income Americans may be subject to.
Healthy Earnings

There's no doubt that, in general, wealth begets good health. The areas with a concentration of people with an annual income of $35,000 or less spread across the South and Southeast. These was also a higher prevalence of obesity and diabetes in these areas. High percentages of smokers and those with diabetes were also found in the Southeast region along with physically inactive people.
Interestingly, it may be easier to point out the areas with smaller percentages of people who are obese. After all, it is an American epidemic. However, the areas with the lowest percentage of obese people are also the areas where people with higher incomes and lower average health costs live.
Indebted Individuals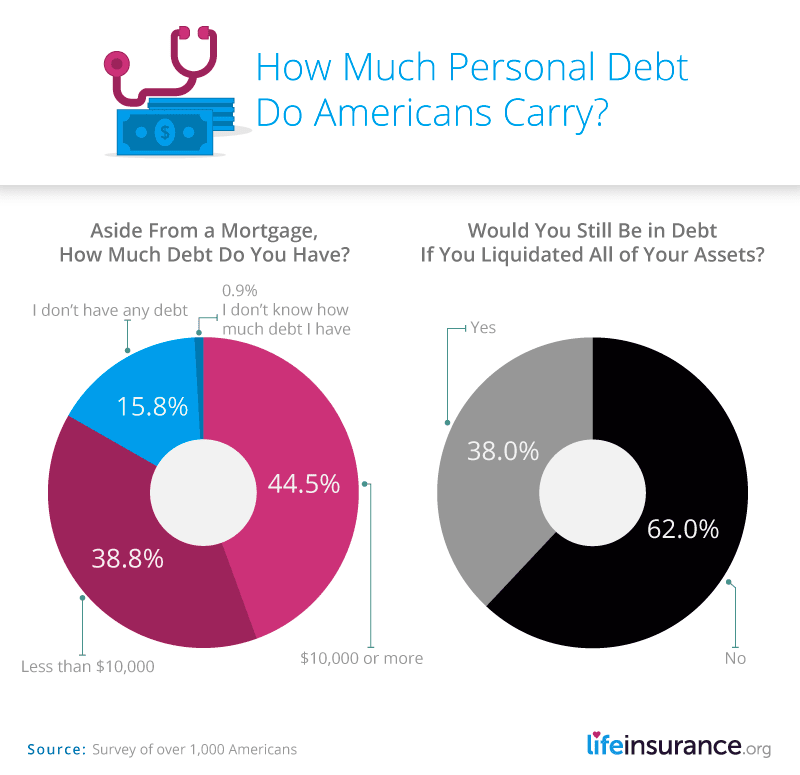 When mortgages were omitted, over 44 percent of Americans still had $10,000 or more in debt, and only around 16 percent were debt-free. So where is this debt disparity coming from?
Despite the widely believed overconsumption myth, the accumulation of debt isn't always from buying things one doesn't need. The myth has led many to believe Americans are spending more than they can afford on luxury items like name-brand clothing, accessories, and even household appliances. But if this were the case, many Americans could clear their debt by liquidating their assets. According to our study, however, it's not that simple. Thirty-eight percent of respondents admitted they would still be in debt after liquidation. This could be because Americans still have student and auto loans to contend with – two sources responsible for a higher percentage of household debt compared to credit cards.
Liquidated Debt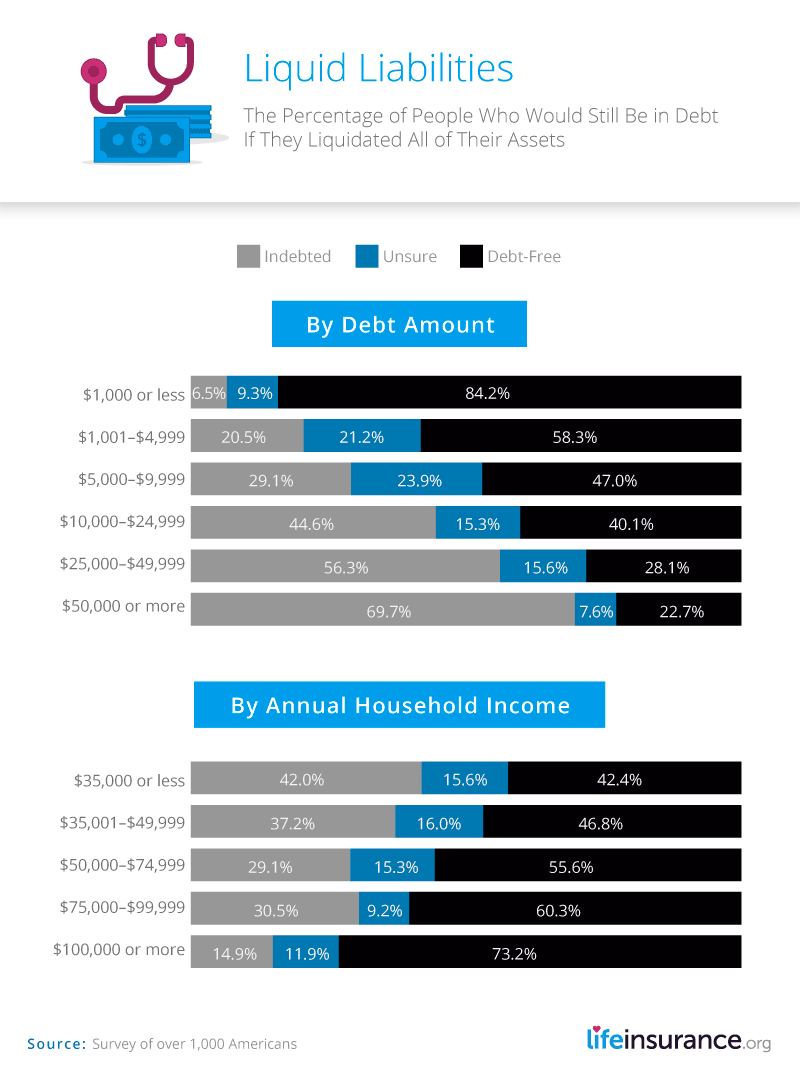 As mentioned earlier, liquidating assets doesn't necessarily rid Americans of their debt. It turns out that the likelihood of still being in debt after liquidation increases with the amount of debt accumulated. Of those who had $50,000 or more in debt, nearly 70 percent would remain in debt even after liquidating their assets. This isn't the case for those with $1,000 or less in debt, however – only 6.5 percent of respondents would still be in debt after liquidation.
A similar correlation was found when looking at income versus debt. Participants with decreasing incomes were more likely to still be in debt even after liquidating their assets. For those making $35,000 or less each year, 42 percent would have debt amounting to more than the value of their assets. On the other end of the spectrum, only about 15 percent of those making $100,000 or more wouldn't be free from debt after liquidation.
Debt Delays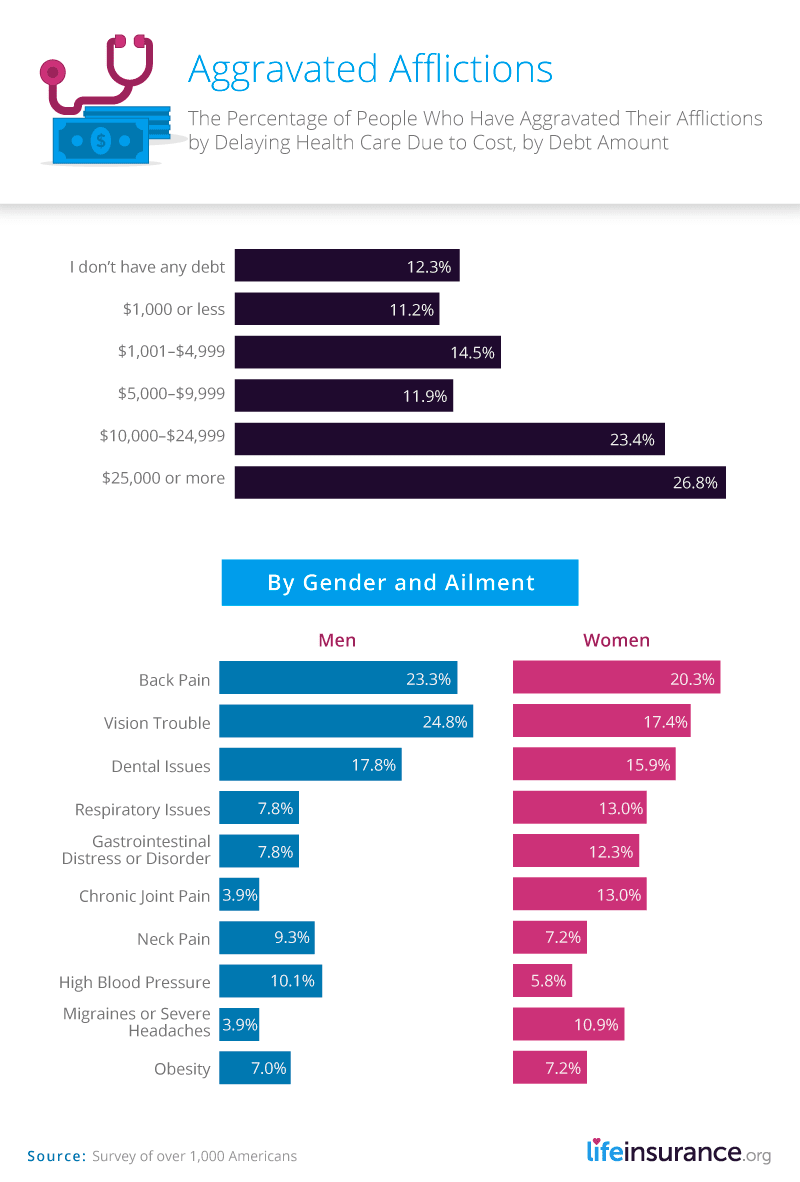 Regardless of insurance status, out-of-pocket costs for medical treatment can cause many to delay care. For those who already have a large amount of debt, adding to it may not seem worth it, even if medical care is needed. Over 23 percent of respondents with $10,000 to $24,999 in debt reported delaying medical care due to costs, and almost 27 percent of those indebted $25,000 or more did the same.
The health issues that got worse by delaying medical care differed significantly for men and women, except for obesity – with 7.2 percent of women and 7 percent of men experiencing a worsening of this issue. Some of the most ignored ailments? For men, almost 25 percent of those who admit to delaying care due to cost say that vision trouble is a frequently ignored affliction. For women who delay care due to cost, 20.3 percent report delaying care for their back pain.
Enduring pain in your back and vision trouble in order to avoid debt may seem dangerous, but with the expensive cost of health care and insurance in America, the more debt you have, the more likely you are to take risks with your health. Even more severely, 66 percent of Americans do not purchase life insurance because it is too expensive, which could potentially make familial situations even worse for those who already have a lot of debt or financial hardship.
Doctored by Debt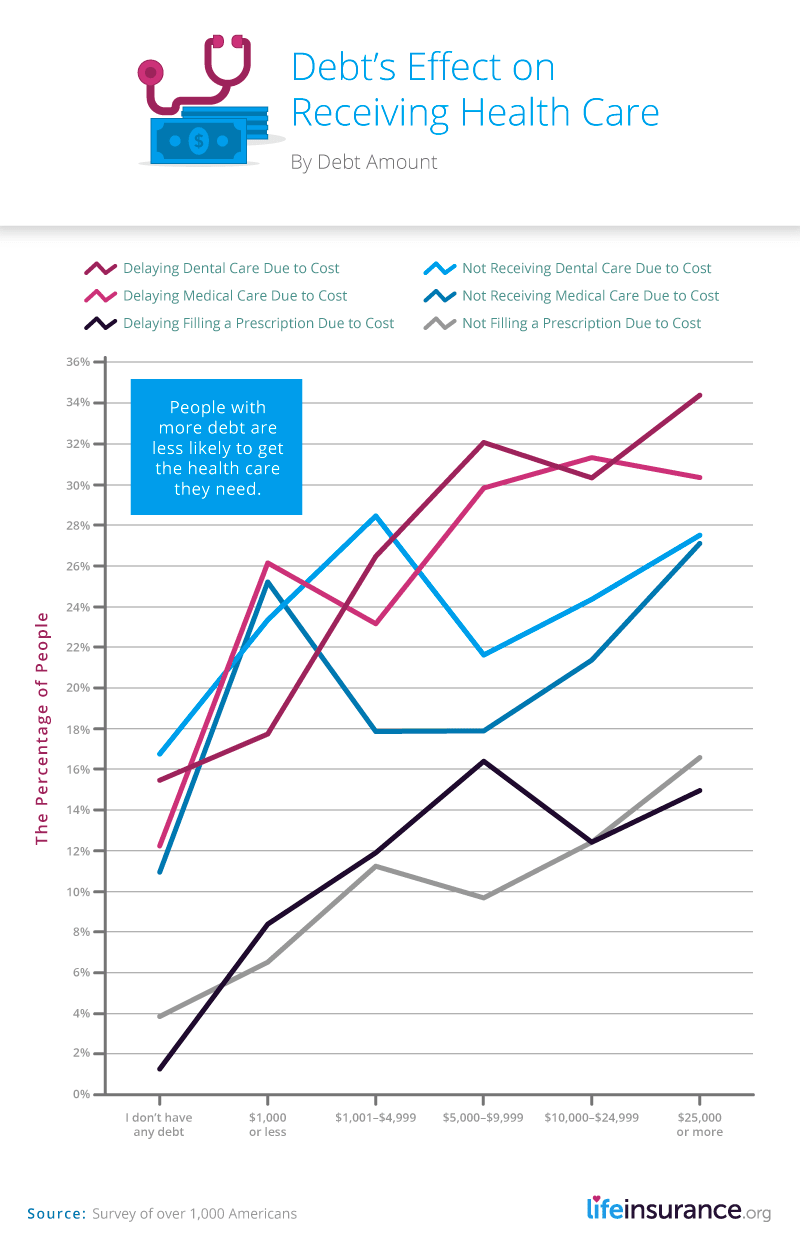 Accruing debt throughout a lifetime is negatively associated with seeking timely health care, as well. As shown above, people who were overwhelmed by their debt often delayed or forwent seeking medical treatment. Ultimately, the relationship between health, income, and debt is not coincidental. The less money you make and the more debt you have, the more feasible it can seem to put off a visit to the dentist or doctor because the costs are too high.
Conclusion
Based on our study, delaying medical and dental care seems to be the most jointly correlated to the amount of debt you're in. Sadly, men and women are willing to endure back pain and vision trouble because of it, and risk further aggravation of conditions in the process. Though seeking care may seemingly equate to adding more financial burdens, finding the right insurance plan in order to receive timely care could be the best place to start and avoid costly complications down the road.
Methodology
We used County Health Rankings from 2017 to analyze the overall health and afflictions of various counties in the U.S. by income. We also surveyed over 1,000 Americans on how their debt impacted their health to study how income and debt can affect access to health care and the act of seeking medical attention for illnesses.
Sources
http://www.countyhealthrankings.org/
http://money.cnn.com/2017/08/05/news/economy/high-deductibles-insured-health-care/index.html
http://www.benefitspro.com/2017/03/19/employee-financial-health-connects-to-physical-hea?slreturn=1509059597
https://www.washingtonpost.com/news/wonk/wp/2015/01/14/why-the-wealthy-stopped-smoking-but-the-poor-didnt/?utm_term=.fe6d49c4b6d1
https://www.mayoclinic.org/diseases-conditions/obesity/basics/prevention/con-20014834
https://www.mayoclinic.org/diseases-conditions/obesity/basics/treatment/con-20014834
https://www.theguardian.com/commentisfree/2015/nov/29/kis-junk-food-dont-blame-parents
https://news.harvard.edu/gazette/story/2016/02/money-quality-health-care-longer-life/
https://health.usnews.com/wellness/fitness/articles/2017-02-27/4-strategies-for-exercising-if-you-live-in-a-low-income-neighborhood
Fair Use Statement
Care to share our study on income, debt, and health? Please link our study to interested parties for noncommercial purposes only, and don't forget to give us credit!